Past lives couldn't ever come between us
Some time the dreamers finally wake up
Don't wake me, I'm not dreaming
This romantic music witnesses the cool fall's coming. Imagine now that you are lying on the comfortable grass, the breeze is gently brushing your face and the golden leaves are falling down. What a beautiful picture! It seems like the fall want to invite you as its guest. Are you preparing for a wonderful fall camping? If so, here are some helpful fall camping tips for you to improve your experience.
1. Preparation for cooking diet with portable power station
As we can see, camping life has another name: off grid life, which means you are far away from electric supply. So you'd better get some ready-to-eat snacks. But other equipment need power supply. What can you do? Never mind, Huarigor(kingmolenergy) portable power station manufacturer brings high quality 300W, 500W, 1000W, 2000W portable solar generator for your camping.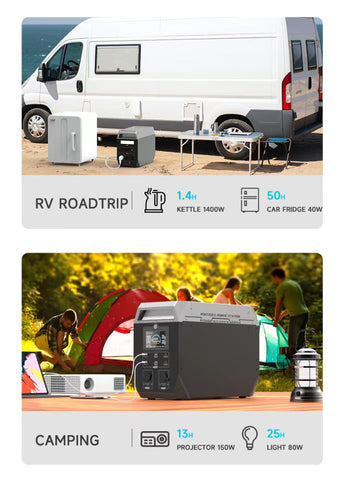 Can you find a safe & convenient portable outdoor power station for camping? A portable power station helps you solve these problems. The compact & convenient power station not only can be picked up by one hand, but it is also space-saving in the car. This portable power station is suitable for your laptop, iPhone, electronic devices, emergency needs, etc, allowing you to enjoy a mouthful of yummy foods and open-air cinema outside. Here are 3 different ways you can charge when the power station runs out:
use solar panels
use the car charger
plug in the wall socket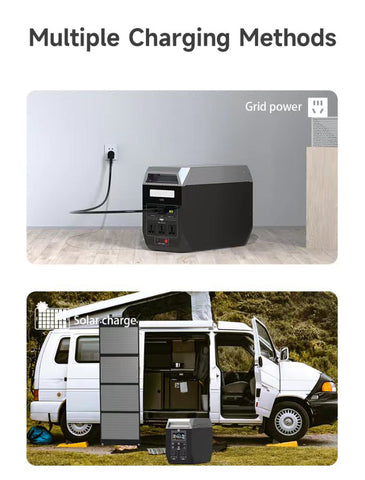 In addition, cookware is necessary. You'd better choose multifunctional cookware, including stoves, pots and pans. This is easy to organize, but also save space. Pack as much food as possible that is easy to store and carry around, as there are no outdoor restaurants or take-out. If you do not want to use campsite water for cooking, you can bring your own drinking water to avoid the situation of campsite water shortage.
2. Preparation for apparel
Keeping warm is the most important things you have to pay attention to when going outside. Camping in autumn is subject to temperature changes compared to summer. The outdoor environment can change rapidly, and proper clothing is the foundation of outdoor safety.
Clothing should keep you comfortable and safe under any circumstances. If you plan to spend the night outdoors, hike in the suburbs, or head to some of the high mountains, be sure to account for the large temperature difference between day and night, and even extreme weather. Take care of weather forecast to choose your clothing. Here is the clothing formula: layer-layer-layer. That means sweating layer, insulation layer, protection layer. Besides, you can take sneakers, moisture-wicking socks, umbrella, rain jackets, pajamas.
3. Preparation for sleep
When it comes to fall camping, it's important to be well prepared for the night's sleep. Camping tents will be your safest and most comfortable choice. If you encounter special weather such as rainy, windy, frost and fog, a sturdy tent can not only improve safety, but also shelter from the wind and rain, warm and comfortable.
In order to stay comfortable in tent, you also need to prepare a sleeping bag, tide mat, air cushion and so on. Due to the large temperature difference between day and night outside and the heavy fog at night and early morning, these equipment can greatly improve the quality of sleep. After all, physical strength is quite important when you go out to have fun. Hope you can enjoy this pleasant camping experience.